Sony fejrer 10 år med spejlløse og full-frame kameraer i Alpha-serien
Sony kan i år fejre 10-års jubilæum for Alpha-serien: et årti med innovation inden for fotografi med Alpha-seriens spejlløse og full-frame kameraer.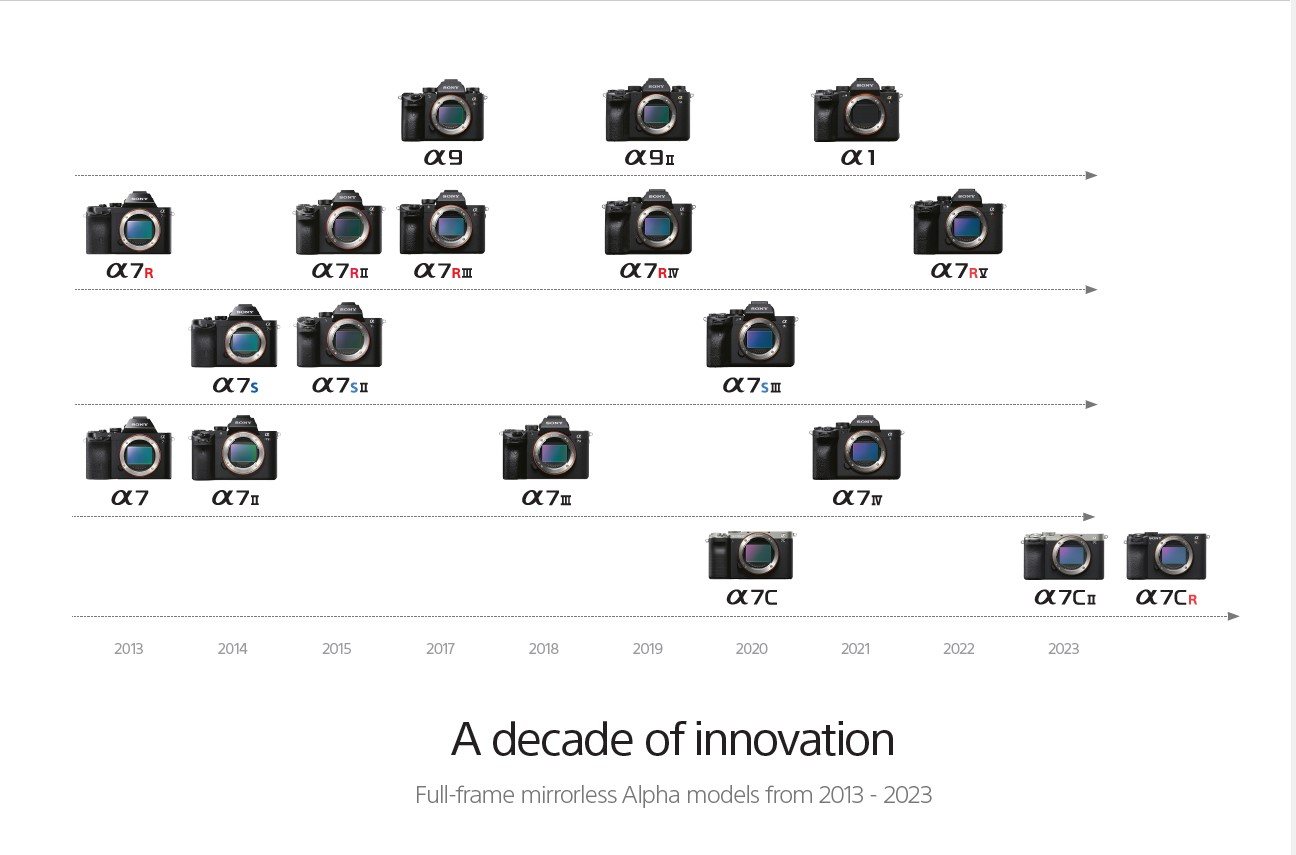 I løbet af det sidste årti har Sony rykket grænserne for teknologi inden for fotografi og transformeret industrien, samtidig med at de har styrket foto- og videografers arbejde med banebrydende teknologi.
For at fejre jubilæet har Sony samlet de bedste billeder taget med Alpha-kameraer i løbet af det seneste årti, som kan findes her.
Læs den fulde engelske pressemeddelelse inkl. de vigtigste milepæle herunder:
Sony Celebrates 10 years of Alpha Mirrorless and Full-Frame Cameras
Sony is proud to announce the celebration of a decade of innovation in the world of photography with the 10-year anniversary of its Alpha mirrorless and full-frame camera series. Over the past decade, Sony has pushed the boundaries of photographic technology, reshaping the industry and empowering photographers and videographers with cutting-edge tools.
Key Milestones:
• 2013: The photographic landscape was revolutionized with the introduction of the world's first mirrorless full-frame cameras – Sony's Alpha 7 and 7R. These pioneering models marked the start of an ongoing evolution for the Alpha series.
• 2014: In less than a year after, Sony introduced the 'S' variation, setting new standards for low-light performance at high ISO settings and 4K video recording.
• 2015: The Alpha 7R II, featuring a ground-breaking 42.4-megapixel back-illuminated full-frame sensor, continued to redefine photography standards.
• 2017: The Alpha 9, launched in 2017, offered black-out free continuous silent shooting at an impressive 20 frames per second, giving sports photographers a competitive edge over their DSLR-shooting counterparts.
• 2020: Sony announced the Alpha 7C - the world's smallest and lightest full-frame camera. Uncompromised performance in a compact design
• 2021: The Alpha 1, the world's first full-frame mirrorless camera to combine a high-resolution 50.1 megapixel sensor with 8k video recording capabilities and much more, ground breaking for both photographers and videographers and marked a new era in professional imaging.
• 2022: The Alpha 7R V, the first Alpha camera with an AI processing chip for autofocus. The state-of-the-art AI processing uses detailed information about human form and pose estimation to dramatically improve recognition accuracy beyond systems which only detect face and eye, also includes several subject types such as animals, vehicles and insects.
To commemorate this milestone, Sony has curated a collection of the finest images captured with Sony full-frame Alpha cameras over the past decade. Explore this visual journey in our interactive flipbook . You can also have a look at the history of Alpha cameras with our infographic below, so you can see our revolutionary Alpha timeline and which models have created such extraordinary content.
For yderligere information, besøg venligst:
Om Sony Corporation
​Sony Corporation er et datterselskab ejet af Sony Group Corporation og er ansvarlig for Sony Group's afdelinger inden for underholdning, teknologi og services. Med en vision om fortsat at skabe Kando (følelser) og Anshin (pålidelighed, tiltro og ro i sindet) hos mennesker verden over ved hjælp af teknologi, skaber Sony produkter og tjenester inden for områderne hjemmeunderholdning og lyd, billedbehandling og mobil kommunikation. For mere information, besøg: http://www.sony.net/