Nyt FE 70-200mm F4 Macro G OSS II-objektiv fra Sony tilbyder fantastisk billedkvalitet og suveræn autofokus
Sony udvider rækken af fotomuligheder med lanceringen af telezoomobjektivitet FE 70-200mm F4 Macro G OSS II, der kommer i et kompakt og let design, alt imens det tilbyder suveræn billedkvalitet og uovertruffen autofokus. ​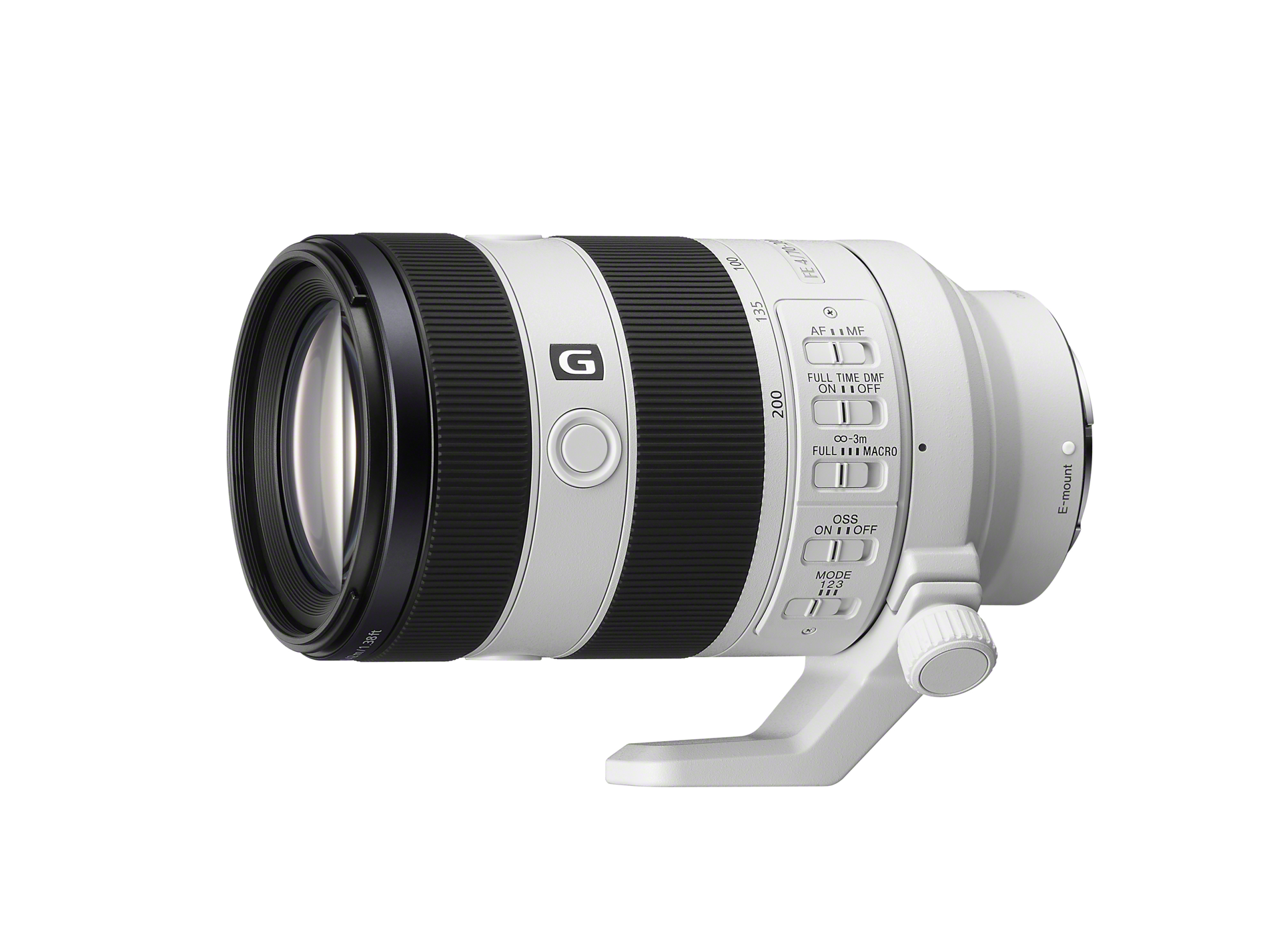 Sony har i dag lanceret det nye telezoomobjektiv FE 70-200mm F4 Macro G OSS II (SEL70200G2), der er et kompakt, let telezoomobjektiv, som kan anvendes i en lang række situationer. Objektivet tilbyder brændvidder fra 70mm til 200mm med en ​ ​ maksimal F4-blænde og er kompatibel med 35mm fuldformats Alpha™ E-mount-serien.
Sony FE 70-200mm F4 Macro G OSS II kommer ikke kun med fremragende højhastighed og højtydende autofokus, der er helt unikt for G-objektiver, men er også verdens første telezoomobjektiv, der tilbyder halv makro-kapacitet med maksimum forstørrelse på 0.5x i hele zoomområdet.
Med en telekonverter (sælges separat) er supertelefotooptagelse på op til 400mm og makrooptagelse i naturlig størrelse 1:1 også mulig i hele zoomområdet.
Læs den fulde engelske pressemeddelelse herunder.

​Sony expands the range of shooting possibilities with introduction of the FE 70-200MM F4 Macro G OSS II lens™ offering supreme image quality and AF performance
FE 70-200MM F4 Macro G OSS II telephoto zoom lens with compact and lightweight design.
World's first[1] half-macro shooting with a maximum magnification of 0.5x throughout the zoom range
Sony introduces the telephoto zoom lens FE 70-200MM F4 Macro G OSS II (product name SEL70200G2) that covers focal lengths from 70mm to 200mm with an F4 maximum aperture, compatible with 35mm full-frame α™ (Alpha™) E-mount series.
The FE 70-200MM F4 Macro G OSS II is a compact, lightweight telephoto zoom lens that can be used in a wide range of situations. Not only does the FE 70-200MM F4 Macro G OSS II contain superb high-speed and high-performance AF that are unique to G lenses, this is the world's first1 zoom lens to offer half macro capability throughout the zoom range, with a maximum magnification of 0.5x2 throughout. In addition, with a teleconverter (sold separately3), super-telephoto shooting up to 400mm and life-size 1:1 magnification macro shooting throughout the entire zoom range is possible4.
This launch marks Sony's 50th full-frame E-mount lens5. Since the very first lens, Sony has remained committed to supporting the creative activities of photographers and videographers by bringing together the latest technologies and expanding the E-mount lineup that covers both full-frame and APS-C size formats.
A compact and lightweight model capable of excellent shooting from distant to close-up, and compatible with a teleconverter
With a total length of 149mm and a weight of approximately 794g (excluding tripod mount), the FE 70-200MM F4 Macro G OSS II can be used for a wide range of purposes, including sports scenes, landscapes, wild birds, and even macro photography.
Shooting from 70mm to 200mm, the lens also enables the world's first1 half-macro shooting2, with a maximum magnification of 0.5x throughout the zoom range. The advanced aspherical lenses contribute to uniformly excellent corner-to-corner resolution and contrast. In addition, ED (Extra-low Dispersion) glass suppresses chromatic aberration.
It also supports a high-performance teleconverter6 (sold separately3). With a super-telephoto of up to 400 mm (equivalent to 600 mm when using with an APS-C camera)4, you can capture distant subjects in a larger size, along with beautiful bokeh. When the SEL20TC is attached, it is possible to take macro shots at up to 1:1 over the entire zoom range.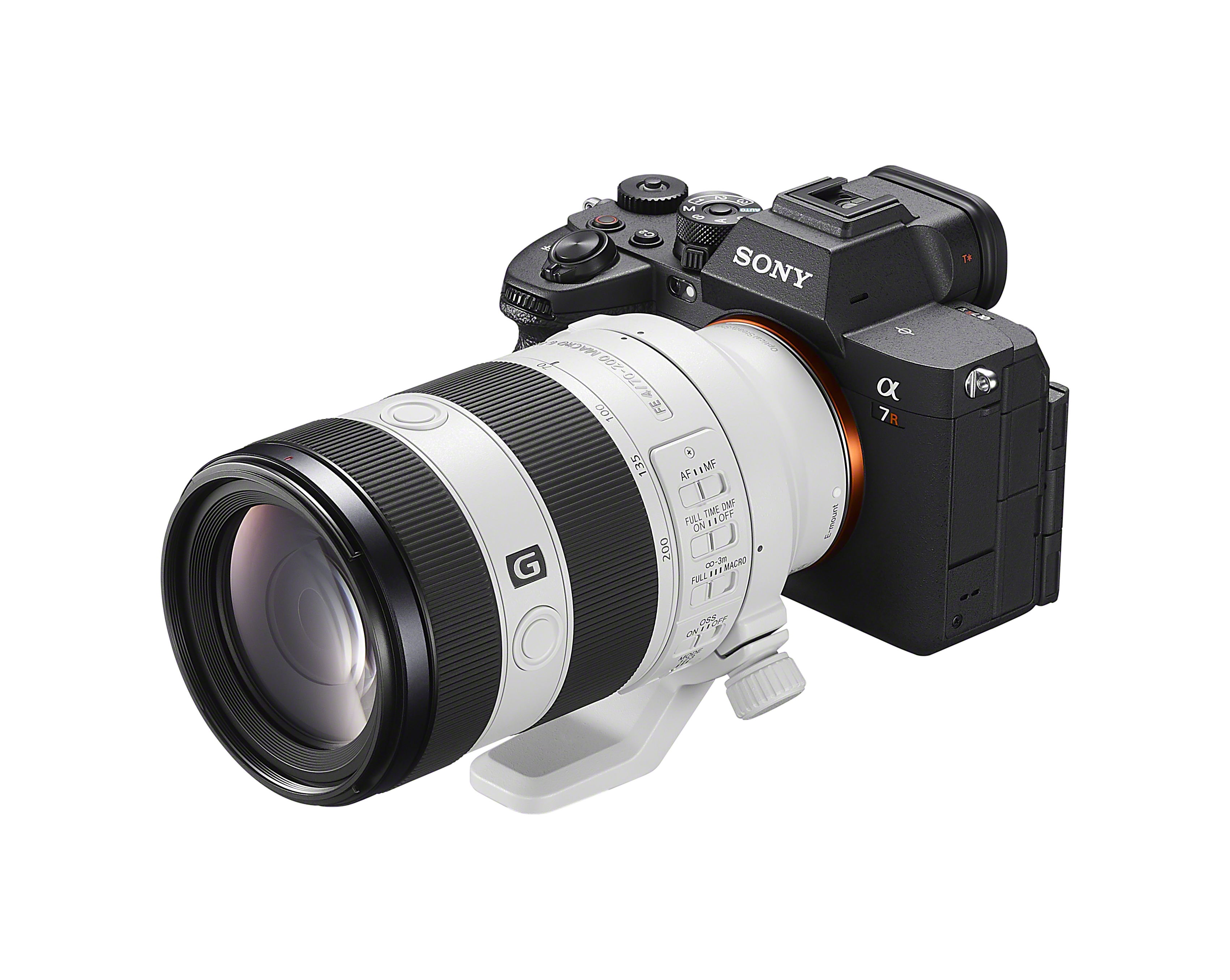 Fast autofocus and excellent video recording performance
Sony's unique XD (extreme dynamic) linear motor increases the autofocus speed by up to 20%7. Tracking performance for moving objects has also improved approximately twice as much compared to the previous model7, so it continues to track the target subject with high accuracy. Whilst focus tracking performance during zooming has also been greatly improved8. When paired with the flagship α1 body, it is possible to shoot high-speed bursts at up to 30 frames per second.
In addition, a new MODE39 setting of SteadyShot has been added that optimises the camera shake correction algorithm, emphasising framing stability when shooting moving subjects. By combining with a compatible camera body, you can more effectively compensate for camera shake and shoot stable movies.
Intuitive operability and high reliability for safe use in harsh shooting environment
The FE 70-200MM F4 Macro G OSS II provides intuitive and secure operability that supports the photographers and videographers. In addition to a focus range limiter and a full-time DMF switch that instantly switches from AF to MF (manual focus), the detachable tripod mount included in the box provides a sense of stability during super-telephoto and macro shooting.
In addition, the front lens element features a fluorine coating, which makes it easy to remove fingerprints, dust, oil, and other contaminants from the lens surface. The dust and moisture resistant design provides extra reliability for outdoor use in challenging conditions10 and expands the freedom of shooting.
Pricing and Availability
The new FE 70-200MM F4 Macro G OSS II will be available in August 2023 for approximately 15.500 kr. It will be sold at a variety of Sony's authorised dealers throughout Europe.
A product video on the new FE 70-200MM F4 Macro G OSS II can be viewed here https://youtu.be/5WXIeLFQ_o4 ​ ​

​1 As of July 2023 product announcement. Sony's survey. ​
2 When using a 35mm Full-frame sensor camera. In the case of using an APS-C sensor camera, 0.75x equivalent magnification throughout the zoom range in the 35mm format.
3 1.4x Teleconverter Lens "SEL14TC" and 2.0x Teleconverter Lens "SEL20TC"
4 With "SEL20TC"
5 As of July 2023 product announcement.
6 Maximum aperture with the 1.4x and 2.0x teleconverters is F5.6 and F8, respectively.
7 Compared to SEL70200G, Sony's test conditions
8 Compared to SEL70200G, when shooting stills, Sony's test conditions.
9 A software update may be required. See Sony's support page on the web for camera compatibility info.
10 Not guaranteed to be 100% dust and moisture proof.